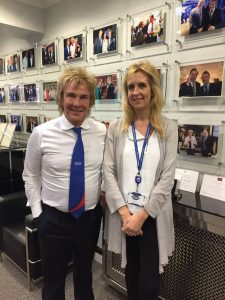 I recently met with Charlie Mullins, Founder and Chairman of the extremely successful Pimlico Plumbers,for an interview on my upcoming book.
What an interesting conversation that was and one you can read Charlie's thoughts on here.
I wondered prior to meeting if we would agree on how to manage and grow a trade business, and found that although we come at things from different angles, we are definitely on the same page.
I discovered that we both have an appreciation for the importance of high operating standards and excellent customer service in business;  recognising that if you get these two things right, you will definitely be on the right track to having a successful business that will grow.
I am very grateful to Charlie for putting me in touch with Fix Radio, where I was a guest on their Essential Toolbox programme last Thursday. Fix Radio is a new radio station that launched at the end of April in London, purely for the construction and trade industries.
Matt Jamison, the presenter was absolutely lovely and immediately put me at ease. We spent the programme talking about the BUILD system we have created at Evolve and Grow; a 5-step process aimed at trade business owners with an annual turnover of between £100-300k get off the tools and grow their business.
The BUILD system has generated an average increase of 45% sales and 214% profits, for the trade clients that have worked with us for 12 months or more. It is simple, common sense (which as Charlie says is often not that common!) and effective. BUILD stands for:
Business Planning
Understand Your Strengths
Implement Systems and Processes
Love Your Customer
Develop and Delegate
Essentially this system enables the business owner to create a business plan, identify where their true strengths lie, surround themselves with the right people and take their business in to the top 20% in terms of customer service.
It helps them reduce their stress levels, have more time and make more money.
My book, 'BUILD and Grow, How to go from Tradesperson to Managing Director in the Construction and Trade Industries', gives the reader the necessary detail behind all of these steps and I hope will inspire lots of trades to step up in the way that Charlie did all those years ago.
'BUILD and Grow, How to go from Tradesperson to Managing Director in the Construction and Trade Industries' is due to be published Autumn 2017.