Business development and training for your Construction and Trade business.
The Build and Grow Academy has been created to transform the futures of our members and their businesses. Our insight and knowledge of your industry has developed business owners like you, to know more clearly what kind of a business they truly want and how to grow and build them.
We've developed our Academy to help you progress through this journey and create a solid, profitable and scalable business as quickly as possible, so you can build a business, a team and a lifestyle you love.
Discover the health of your construction or trade business. Check how you score in the four key areas you need to succeed in for business growth.
ARE YOU STUCK
IN THE STRUGGLE?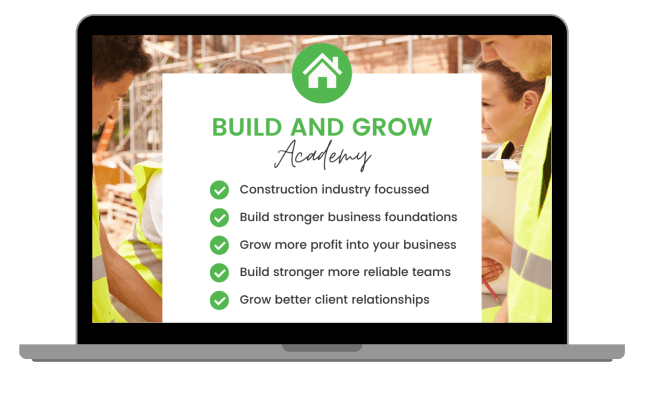 There is a common journey that businesses like yours go through. We work with business owners from the trade and construction industry, from across the UK, and see similar struggles and challenges that show up time and time again.
Business owners end up stuck "on the tools" and stuck in the struggle of working hard in their business, rather than working smartly on growing their business. Construction businesses often have no shortage of demand, but there is no structure in place to deal with it. Having no one in the business with clearly defined roles can lead to a challenging cycle of struggle, with business owners and employees feeling frustrated.
In any successful business, there are 7 major areas to get control of in order for your business to become more valuable, more scalable and more profitable. Our training portal guides you to develop these assets quickly and strategically. The system has been developed by award-winning business leader and expert Alison Warner.
The 7 areas can be worked out over 12 months, making sure you are continuing to give your business your focus, and simply adding in the tools and training into your everyday work as you go.
The Build and Grow Academy leads to growing your business profits and enhancing the value of what you do. Ensure your business, your team and your future are positively under construction.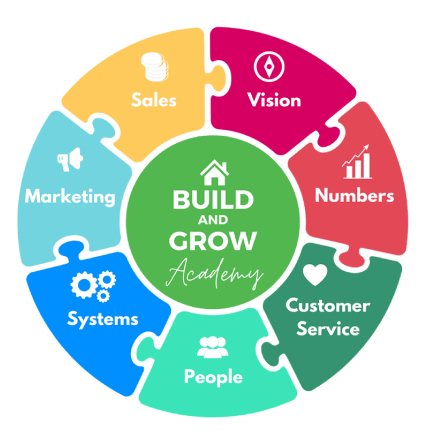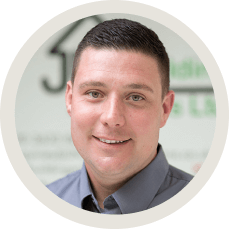 I have completely come off the tools, attained office space, employed two more office staff, doubled the number of projects that we run at one time and implemented systems that set us apart – all within 9 months.
7 X INDUSTRY SPECIFIC BUSINESS DEVELOPMENT COURSES,
DESIGNED TO TRANSFORM THE SUCCESS OF YOUR BUSINESS
Digital portal Academy access 24/7
Detailed workbooks and action guides provided for each module
12-month development and action plan including tools and resources
Content designed for busy business owners – like you
Achieve results whilst continuing to run your business
Monthly Q&A live sessions with Alison Warner (For premium members)
Request a free discovery session to find out more about the Build and Grow Academy