1. Trying to do too much themselves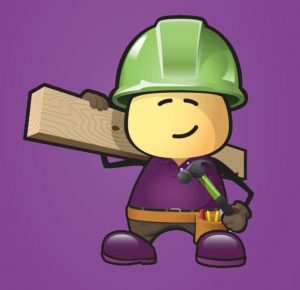 None of us are good 'all-rounders'. Some of us find dealing with customers and staff very natural, preferring to be out and about where as others are more comfortable in the office, making sure that invoices are going out on time and the administration side of the job is being done correctly.
The trick is to understand the role that you play best within your business, and by and large stick to that, whilst surrounding yourself with people who are playing to their strengths, doing the things you hate.
Often when I first start working with a Trades business, I find the business owner trying to sit in too many seats, and invariably it is the administration side of the business that is suffering. This means that invoices don't get sent out on time, outstanding payments are not chased and cash flow is compromised. Another knock on effect of a business owner trying to do everything is that customer service is then detrimentally affected. This means that often customers are chasing for updates, as they haven't been kept informed, and jobs are delayed. This in turn of course can affect the likelihood of any future business as an unhappy customer is hardly likely to recommend you.
TOP TIP – stick to what you do best, and surround your self with people who love doing the things you hate! This doesn't necessarily mean employing someone; many tasks can be outsourced at a reasonable cost, without any long-term commitment.
EXERCISE
What do you most enjoy doing?
What do you least enjoy doing?
What would you outsource tomorrow if you could?
2. Having no visibility of sales and profits
I come across this frequently; a lack of visibility of sales, expenses, profits and cash flow. Without having this information at your finger tips (and this means having a system to automate it), it is very difficult to make good decisions. Either no decision is made i.e. the business owner procrastinates, or they make decisions based on what their gut is telling them, which can be dangerous.
Take the scenario described in point 1, where I am saying that any business owner needs to play to their strengths and outsource the things they hate. A common challenge I hear is, "I can't afford it", but in every case, once we analyse the numbers and create a financial forecast, we can start to plan for this expenditure. In most cases with Trades businesses, we end up either employing an admin assistant or outsourcing the bookkeeping and two things then occur:
a)  the business owner has more time to drive the sales
b)  cash flow improves
Both of these outcomes mean that the 'extra expense' is not only paid for, but generates extra cash in the bank!
TOP TIP – Create a monthly and annual financial forecast i.e. expected sales, expenses and profit, and check in against this regularly to ensure you are on track.
EXERCISE
Do you have accounting software in place?
What is cash flow like currently?
What would be the first step to improve in this area?
3. Having no system to manage cash flow
This partly relates to the previous point i.e. by not having someone dedicated to keeping on top of invoicing and the chasing of payments, this can often lead to poor cash flow. However there are other things to consider when managing cash flow.
The first is to ensure that you have up to date and relevant terms and conditions in place. This immediately improves your credibility and businesses are more likely to pay you first if they can see that you have systems and processes in place; you appear more professional.
Secondly ensure that you have something in place to chase outstanding payments; e.g. an email to go out once the payment is 7 days, 14 days and 21 days overdue. By using accounting software such as Xero it is possible to raise invoices and automate the whole process of emailing customers to inform them their invoice is overdue.
It is also a good idea for someone other than the business owner i.e. the bookkeeper or admin assistant to put in a friendly call, just to check that they know the payment is overdue and kindly ask when they can expect payment. It should never be the business owner, as it has a negative effect on the relationship, and it makes you appear as a 'one-man band'.
If the customer has still not paid once the invoice is more than 21 days overdue, it is imperative that this email informs the customer of the next steps, which will be to potentially issue civil proceedings.
It is a good idea to ensure that all the templates for the chasing of overdue invoices are correct from a legal standpoint and protect you should the case go further. By being a member of the Federation of Small Businesses, you have access to all the templates required in addition to standard terms and conditions. Please go to https://www.fsb.org.uk/ for more information.
Finally if you are in the unfortunate place of having to issue civil proceedings, at this point it is best to hand it over to a debt collector. They will manage the whole process from this point for a small percentage of the invoice. We can recommend PRMS Ltd, which you can read more about here https://www.prmsltd.co.uk/
TOP TIP – Ensure you have terms and conditions in place, and the correct templates for non-payments
EXERCISE
Which of the processes above do you have in place?
What steps could you take to improve cash flow?
4. Not recruiting the right people
So many times I see business owners in the Trades sector 'panic hire'. This is when they desperately need someone, and Bob, who knows Mary, who has a son named Fred, is looking for work. Fred is called and at best met for a coffee, and hired. This happens in other industries as well, don't get me wrong, but it is simply the worst way of recruiting quality team members.
First of all we should be planning ahead and forecasting when an additional team member is likely to be required. By having the right wording in a job advert, and having this placed on the right job boards (websites advertising vacancies), can generate a volume of applications to choose from. I would always recommend doing this first along with asking people you know in the industry if they can recommend anyone.
The next part is to ensure that you have a selection process in place, and this should never be just one interview! Normally I would recommend a short telephone interview, and then shortlist down to 3 applicants for a final stage face-to-face interview. The questions should be focused on asking the candidate for examples of different situations they have been in and how they dealt with them e.g. an unhappy customer, a time when they let their boss down etc.
At this stage I would also incorporate some form of practical test if the position you are recruiting for is a contractor or engineer, which may involve shadowing you for a couple of hours so that you can evaluate their competence.
TOP TIP – Plan ahead for recruitment needs, and advertise and ask around. Ensure that you have a proper selection process in place, ideally telephone interview to screen, followed by face-to-face interview with a practical assessment.
EXERCISE
Who do you need to recruit over the next 6 months?
When do you need to start the process?
How can you strengthen your selection process?
5. Lack of long term planning and organisation
This again relates to the previous point, but of course applies to the wider business. Unless you have an idea of where you are heading, you could end up anywhere, or more than likely going round in circles chasing your tail!
Unless you have a long-term plan in place with measurable milestones along the way, it is very likely that all you will be doing is reacting to whatever appears to be the biggest priority. Without a proactive approach, it is a very difficult to ensure that you have time set aside to focus on the bigger priorities required to move the business forward.
First of all imagine where you would like your business to be 3 years from now, what would your annual sales be, how much profit would you be making, how many staff would be employed, how many vehicles would you have on the road, would you require an office, what admin support would you have in place etc. etc
Then work backwards, using exactly the same questions but for the business in 2 years time and 1 year from now. Now break the next year down into quarters and establish the key priorities that need to be the focus for each quarter e.g. recruit an admin assistant, purchase another van, revamp the website.
Finally share this plan with someone, this could be a family member, business partner, your PA or a mentor and ask them to hold you accountable. The worst thing you can be is your own boss, as it very easy to just not follow through!
TOP TIP – Hold a long term planning session with key members of your team, asking them for their input to highlight goals for the next 3, 2 and 1 years.
EXERCISE
Where would you like your business to be in 3 years from now?
What would be different?
What would you be doing that would be different?
6. Not measuring client satisfaction
You are only ever as good as your reputation, and you have probably heard of the old adage "it takes many good deeds to build a good reputation, and only one bad one to lose it." (Benjamin Franklin)
It is very common in the SME market, including the Trade sector, for businesses to not properly manage the measurement of the customer experience. By 'properly manage' I am referring to having a structured mechanism that measures a customer's experience, as opposed to ad-hoc feedback.
The industry is not perceived as well as some – I know this may be contentious, but it's true, most customers expect communication to be poor within the Trades and Building industry, and for jobs to over-run. Now this is a good thing, as it means that if you follow the steps in this Ebook, you will be on your way to exceeding the service your competition provide!
My recommendation would be to construct your own customer survey using a free tool such as SurveyMonkey, but delegate this task to your assistant or outsource it! Construct the survey so that the person completing it can do so anonymously if they so choose, this ensures that you are more likely to get real feedback. Make sure that the majority of questions can be quantified e.g. multiple choice, rating scales etc as opposed to free text, so that you are able to measure trends and improvements made over time.
TOP TIP – Ensure that you have a structured mechanism in place such as a customer survey to measure all customer experiences, and allow you to see where the main opportunities for improvement are.
EXERCISE
How would you rate the level of customer service you are currently providing on a scale of 1-10, with 10 being excellent?
Where would you say there is room for improvement?
What do you plan to do to ensure that your instincts are correct? Eg. Conduct a customer survey etc
7. No marketing plan
Now this is an interesting one in that in my experience, if you get the customer experience right, you will be inundated with new enquiries due to the fact that the standard of service within the Trades and Building industry is often not great. Therefore if you take the steps to properly measure the service you provide and address any opportunities, it is likely your business will soar!
That said it is always a good idea to have a marketing plan in place to define key channels to bring in extra enquiries.
The most obvious one is your website. Remember this is a refection of your professionalism and your brand. It is worth investing to make sure that this makes the right impression with any new potential customers. By working with a specialist Web Development Company that is experienced in your industry, will pay dividends in the long run. We work in close partnership with Make Me Local who specialize in connecting local buyers with local sellers and have a strong track record in the Trades and Builders industry.
Networking can also be a great way of meeting other trades, who offer services that compliment yours; hence this can be a great source of both business and recruitment of staff. There are several different groups around; one of the most effective is BNI as this is a referral organisation where each group is focused on passing business as opposed to general networking.
Finally look at targeting different professions that are likely to pass you an ongoing stream of business, through working in an unofficial partnership arrangement. For example if you have a painting and decorating business, companies that manage blocks of fats could be a good partner for you, as this will be volume of work and ongoing.
TOP TIP – First and foremost ensure that the service you are providing is top notch, this way your customers will actively recommend you to others.
EXERCISE
What would be the first step in creating a marketing plan?
What are the obvious opportunities for your business?
What would be some ideal professions that you could partner with?